Akari 2nd anniversary.
2013-12-30
Today is my 2st anniversary.
Akari appear on Aria company winter unifrom
Mai appear on Megurine Luka in 千本桜 costume from 参ノ桜・楓香 .
Like a doll.
It a good day.
So sweet with My Inspiration.
Snow dome.
Akari prepare to take a photo for mai.
1.2.3.......Shoot.
Temp at -18 degree but am don't worry.
Because have a warm with my inspiration.
With dreamword mascot.
Come to Bakery shop. To take a anniversary cake.
My cake....
And back to home. I don't wont to wait.
My cakeeeeeeeeeeeeee.
Mai chan are staring a cake. What her Thinking........?
Now time to Happy birthday.
Mai chan has a kiss me. She sed....HBD akari.
Am sooooo happy.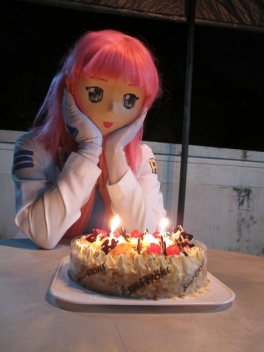 This for all.
" Thank you " a shot word . But is great.
Thank you again.
Time to splitttttttt.
1.2.3.4.5....
Yakkkkkkkkkkkkk...
Hope you happy all. See you next time.
Akari.